Ever since I was a young girl I had this magical attraction for ancient Egypt. I remember sitting all alone in my den in Arcadia, California looking at National Geographic magazines, and totally captivated by the history and culture of Egypt. In my fantasies I thought perhaps someday I would go there, and search for treasures as an archeologist as this fascinated me. Little did I know I would go there someday and live for 4 years, and my treasure would be to perform there, and continue my studies in Egyptian dance.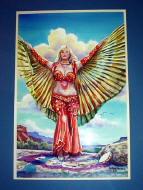 As a young girl of around 8 years, I had an older girlfriend in the neighborhood. She was very good at ballet and had studied for many years. I told her I wanted to learn as another fantasy I had was to be a ballet dancer. We had so much fun getting together and dancing. She even pushed me to have a goal which was a recital for me to perform for our moms. I remember her playing the music on the piano—Beautiful Dreamer—and me flitting around trying to be as graceful as I could which was not easy as at that time as I was pretty much a Tom Boy.

Hanging out with 3 older brothers, and an older sister, I was into building forts in the jungle at the Arcadia Arboretum, climbing trees, playing tag foot ball or baseball, and running in track. Little did I know what would happen years later as I blossomed into a woman!

It wasn't until many years later after I had my two sons Eli and Adam that a new path would unfold to me. I was a single parent, the boys were young, and ever since pregnancy and after child birth I had so much back pain. Then I was in a bad car accident that caused alot of muscle damage and constant back pain. I went to the doctor, and they prescribed valium!!! At the time I had no idea what this would do to me. I was so tired I just wanted to sleep, and couldn't even stay awake to watch my small children. I had to get my neighbor to watch them for me until the drug wore off. I was so angry at the doctor for putting me in this position. I decided I would have to do something myself.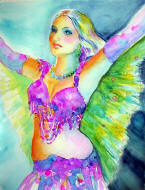 One day, sometime in 1976, I was looking in the newspaper, and there it was. Belly dancing classes!!! It was a Godsend! I had a flash I would heal myself threw dance! At the time I lived way up on the side of Lama Mountain in Taos, New Mexico, and I would have to drive 45 minutes every week to go to class threw rain, sleet or snow—to me this was my therapy, and I was very serious to go to class.

Sometimes I would go, and I was the only student so I had many private classes. My teacher was Maggie Kress, a devout student of Jamila Salimpour. For many years she would go to San Francisco, and take classes with Jamila, who was the most famous West Coast teacher back in the 1970s. She was considered the Mother Goddess of dance. I was very fortunate to have my roots in the Salimpour technique of dance. I was so dedicated to this dance as my therapy I would come home, and every day for at least one hour I would dance and practice all that I learned in class. It was within two months when I noticed a big difference in my back. I was strengthening all my muscles to support my back in a low impact way. Not only did this dance help me in body, but in mind and spirit as well.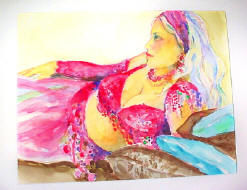 This dance has gotten me threw the worst times in my life. Through problems, heartaches, and emotional stress it has picked up my spirit, and has been my therapy on many levels of life. So after just five months of intensive concentration in classes and training on my own I went to see my teacher, Maggie Kress, and her Troupe Sahda perform. I had an intuition to bring my costume as I may want to dance. Well that night it happened! As Robert Rothafel the main drummer in the troupe announced, "the world debut of Sakti!" then a drum roll. I was electric, and brought the house down! It was my first performance to a large group of people, and I loved it!

I did a complete five part cabaret routine that was popular in America at that time. This included a fast entrance playing finger cymbals, slow, mesmerizing, veil work, fast again, then a Turkish drop into slow floor work that is very gymnastic to a fast finale.

My performance brought tears to my teacher Maggie's eyes. She had only seen me in class fumbling along. From that day on I was performing with Troupe Sahda. We performed in Northern New Mexico, and offered an action packed night of entertainment from Turkish 9/8 Karshlima group dance, sword dance, trance dance, cane dance, and solos.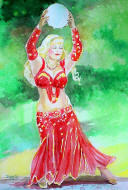 One of the musicians Rick Ferber (Bluejay) was a fire-eater as well as a martial artist, and would feature his expertise. Some nights we even featured some magic! I would have to sit in the basket as the swords were stuck in, and I miraculously popped out with out a scratch. We would end our evening with a surprise of Tahitian dancing with the high energy music, and grass skirts flowing. It was a finale that would always make the crowd roar in delight. I performed with the troupe for a year or so before we broke up and we all went our separate ways. I was the only one to continue with the dance.

In 1981-1982 I was on my first international tour to Japan and Taiwan for 6 months, performing in night clubs and theaters in many different cities in these countries.

Before my tour (and after) I was studying with many different famous teachers from all over America, and Mahmoud Reda from Egypt, who would come to Albuquerque to teach seminars. I traveled to different areas throughout America to take workshops as well.

Upon my return from Japan I also got into the art business, working in galleries selling fine art for 11-years. I was in Taos, New Mexico, at the Total Arts Gallery during the summer, and in Scottsdale, Arizona, at the Suzanne Brown Gallery, and later at the Joy Tash Gallery for the fall, winter, and spring. During my years in Scottsdale, I was performing weekly at the Moroccan restaurant. While being a performing artist myself, loving fine art, and appreciating the artists, plus being a natural sales person, I was very successful.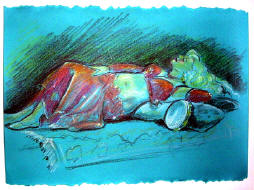 It happened one day in Scottsdale that I was in a very bad car accident, and my Volvo was totaled. I couldn't dance or perform for many months as I needed to heal a lot of muscle damage, and do a lot of physical therapy. It was a very painful, sad, and dark time for me. I was determined to settle a good law suit, and change a bad experience into a good one, which I did! With this money I decided it was time for me to do my art full time, and to fulfill my dream of wanting to perform in Egypt, the Hollywood of the Middle East.

From 1991-1995 I lived this dream. I got a contract with a very nice club—Casino El-Nahr. In my contract, I specified that I could work anywhere in Egypt. This gave me a chance to perform in many hotels, clubs, Egyptian officer clubs, ships, and private parties, as well as many wedding parties. I performed mostly in Cairo, but also in Alexandria and Hurgahda. I also performed in Amman, Jordan, at the Marriot for a month.

In Cairo I had my own band of 10 -12 musicians, and a manager, Ahmed Khalil, that would go with me everywhere. Many shows would run 45 minutes with 3 costume changes. I would do Egyptian style dancing as well as some of my favorite specialties—the double sword and candle tray.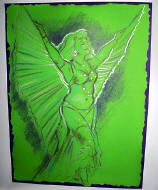 I had a chance to study with great Egyptian teachers such as Raqia Hassan, Nadia Hamdy, and Madam Bousy, as well as many of the old black and white movies with Samia Gamal, Naima Akef, and Tahia Carioca. I started teaching over 20-years ago in America.

While I was dancing in Egypt I started touring to Germany to perform and teach seminars. I will be going on my 16th tour to Germany in February 2003. On this tour I will also go for my second time to Zurich, Switzerland, in January. Over the years I have also been to Turkey, Israel, and Jordan.

I have had a chance to teach many workshops throughout America as well. I regularly teach four classes a week in Taos, New Mexico. Taos is a very unique artist community, and over the years I have had a chance to perform for famous people like Dennis Hopper, Peter Fonda, R.C Gorman, and Jerry Jeff Walker. I have had a chance to perform on famous bands breaks such as the Coasters, Elvin Bishop, John Lee Hooker, and Taj Mahal.

I hope to continue to share this precious art form with joy, grace, and enthusiasm for many years to come.